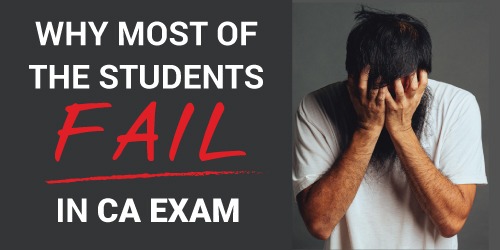 REASONS WHY MOST OF THE STUDENTS FAIL IN CA EXAM
By CA, CPA Vinod Kumar Agarwal
One must keep in mind that CA is not just like any other accounting course. Everyone knows that passing the CA exams is not that simple.

So it will be right to say that there are no shortcuts and only hard work and patience will be paid off in the end. The higher the level, the greater will be the difficulty level of the examination.

After the declaration of Result, there are a few happy faces of candidates who've managed to clear the exams. Their hard work has been rewarded and they are all charged up for a good career ahead.

But after the results of every exam there are many sad faces as well of candidates who've failed to clear their exams. With passing percentages of professional competitive exams being too low, very few candidates manage to clear their exams and the rest are declared as failed.

Interestingly, a high proportion of the candidates who appear for such exams are those who've been outstanding in their career record throughout and thus when they face failure, they get traumatized. Many candidates get demotivated and get depressed about their failure.

A student fails or gets lower grades when he/ she doesn't know all the factors or does not pay attention to all the factors that are necessary for passing the exams and getting good grades. Approach to study, attention to details, punctuality in class

, method of preparing for exams, exam taking tactics and strategies, making good and helpful notes, method of learning, confidence and study related extracurricular activities are some of the important factors that guarantee exam success and good grades.

It is strongly suggested to stick to the basics of study to avoid further failure and ensure success. Some basic reasons of failure in exams are:
1. NO PROPER PLANNING AND TIME MANAGEMENT SKILLS
Most of the students are careless towards their career. They just enroll into a course because their friends are doing so but that is not a good thing to do.
If you decide to do something in respect of career, do it for yourself as you will have to study for your exams and not anyone else. So, be serious. Else you will feel guilty throughout your life even if you do something good elsewhere.
Usually, students get engaged in other activities during preparation such as Marriage, birthdays, family get together, pujas, parties, etc. But remember that all these events can be completed without you.
Proper utilization of this time is really essential to clear your exam in first attempt. So in this way to prepare an effective study schedule, time management is very important.
And do not just take the text book and start reading from the first chapter. Plan your subject, your interest, have an overall feel of the Book, Chapters and their importance. Do not leave any chapter in option.
2. WRONG SELECTIONS OF BOOKS AND IGNORANCE OF ICAI STUDY MATERIAL, PRACTICE MANUAL, RTP
You need to refer the book which is given by your Coaching teacher but without ignoring the material provided by ICAI like study material, practice manual, RTPs, MTPs etc.
You are not required to read these materials wholly and thoroughly but the main idea is for you to realize their importance.
Study martial is considered as Bhagavad Gita/Bible/Quran for the CA students. So you need to first read this and then if required any other reference book, particularly for theory subject.
The institute materials are suggested as they are very much helpful in understanding the way Institute asks a question and expect us to answer.
3. NOT PRACTICING BY WRITING THE PROPER FORMAT
Rough work is how a CA Student defines his practice. But this technique is a big blunder. You must always practice as if you are giving your final performance.
This habit if inculcated will reap in more benefits than you anything you can think of as it helps you to maintain your speed and accuracy even during the practice sessions.
Students solve practical problems in the text book by ticking the posting. In exams we are not provided with answers which we have to verify.
We have to actually write the answers. So practice in note book and ensure that you complete full question. Don't leave halfway.
4. NO PROPER TIME ALLOCATION FOR REVISION
Another basic study point is to give ample emphasis to a good revision plan. There is nothing is this world which can substitute a good revision plan. To succeed revision is must.
5. LESS IMPORTANCE GIVEN TO THEORY POTION OF PRACTICAL PAPERS
Most of the students don't give due value to the theory in the practical subject. So right amount of theory preparation in practical subjects is equally important.
The best way to solve this issue is to prepare notes of frequently asked theory questions from Scanner or the Study material that you are using.
These are some of the main reasons why the CA students fail to clear their exams even after doing every bit of the hard work required. But these are not the only reasons.
Besides these, there are some basic reasons that are responsible for students' poor performance in the examination, and they are discussed as below:
6. BUSY IN ASKING/ARRANGING STUDY PLAN AND TIME TABLE
No one will teach you how to manage your valuable time; after all it's your precious time. You need to understand your utility of time.
Everyone has their own capabilities, strength and weakness. No one can be able to figure out such kind of a study plan that will be feasible for every student. So, plan accordingly as per your own assessments.
7. CONFUSE BETWEEN ATTEMPTING SINGLE GROUP OR BOTH GROUPS IN EXAM
It depends on your preparation and availability of time along with your capability to handle both groups at a time. Most of the students get confused whether to give both the groups or one group at a time.
There is no point in discussing it with friends or taking advice from others. Remember you and you only are the best judge.
8. POOR PRESENTATION SKILLS
This is the statement of many Rank Holders. They say that they have scored rank because others don't have the proper and needed writing skills. And thus, this is another main reason of failure in ICAI Exams.
So work on your presentation skills from now on otherwise you will never realize what mistake you are committing in every attempt.
9. INAPPROPRIATE GUIDANCE & UNSOLICITED GUIDANCE FROM EVERY RANDOM PERSON
CA Students accept every other CA Students' advice which is actually doing more harm than good. Until and unless the advice is coming from an expert, please don't accept any one else's advice. Don't even listen to them as it will only distract you.
10. NO SELF-AWARENESS/ NO PROPER ASSESSMENT & ANALYSIS
Some students are fully dependent upon coaching class. It is suggested to at least develop your own assessment and calibers.
In other words understanding of prevailing examination pattern in a proper manner is also very important for a good start to your exam preparation.
Once you understand the structure of the exams, then it becomes possible to tackle the exam and be successful. Based on the structure of exam, planning should be made.
11. MORE OF ADVICE & LESS OF ITS IMPLEMENTATIONS
The problem with the CA Student is that he is inquisitive enough to listen to the motivation being provided by the friends, teachers, peers, parents etc.
but the only problem is that there is more of listening and less of implementation. There is no point of listening if you are not converting those thoughts into actions.
12. NO ANALYSIS OF MISTAKES
Get very specific about the reasons of your failure. Failure is there not without a reason. It's there to give you the wisdom you need to succeed.
Each failure you encounter increases your wisdom and brings you one step closer to success. If you have this mindset, you will see failure differently. You will see each failure as an opportunity to learn.
13. TENSIONS, PANIC, DEPRESSIONS, FRUSTRATIONS ETC.
Look at your failure objectively, unemotionally. It takes courage and deep strength to overcome the overwhelming feelings of frustrations when you fail an examination.
You should help yourself by staying strong by neglecting all the negative feelings brought by the disappointments.
Success is for those people who never quit. You should look forward for good things to happen ahead of you. You should tell yourself that a failed examination may give you bad days but not bad life.
These are the problems that most of the students fail to deal with and fail in the CA examination. But you have to keep yourself motivated and patient and it will surely help you to concentrate on your preparations.
You just need to make proper plans & strategies and follow it completely because half hearted preparations or self-doubt will never let you achieve what you always want to get.
Though the exams are definitely tough, but good things come to those who work hard to get them.
CA is a degree which you have to earn by your whole hearted preparation as it is one of the most reputed degrees of the country.
Students don't put in the right amount of the hard work that is required of them for the course they are pursuing and then end up demoralized and demotivated after the results and they also end up losing precious time of their life without completely understanding where they are lacking.
So just avoid making the mistakes mentioned above and give your 100% effort and you will definitely get the positive results and clear the examination and get your dream career.