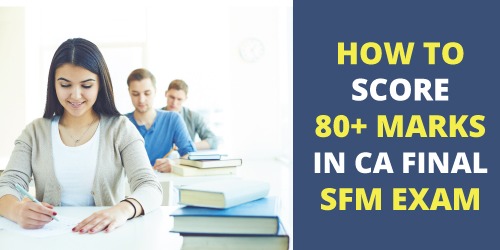 HOW TO SCORE 80+ in CA FINAL SFM EXAM
By CA, CPA Vinod Kumar Agarwal
IS SFM AS A TOUGH SUBJECT ?
Many students consider SFM as a tough subject to handle and score,

SFM can be managed easily with good score in exam.

This is not the case.
HOW SHOULD ONE PREPARE FOR CA FINAL SFM EXAM
I would like would like to give some guidance on CA final SFM Paper based on my experience.



CONCEPTS BUILDING

SIZE OF THE SYLLABUS

STUDY

MATERIAL

STRATEGY

Subject is more on concepts.

Vast syllabus becomes quite manageable if you build strong understanding of concepts rather simply solving problems.

It is quite vast.

A thorough understanding of the prescribed topics is enough for success in the exam

Study material (ICAI)

Suggested Answers

RTP/MTP

Good class notes

Reference material

SFM is not only about Derivatives, Portfolio &Forex.

Lot of small topics which are easier and can be prepared with 100% accuracy in short span of time.

Score 40-50 marks with full accuracy.
SOURCES OF PREPARATION/BOOKS TO BE REFERRED:
Study Materials / Class notes
Revision Test papers (to extent available)
Suggested answers (to extent available)
Mock Test Papers (at least for two terms)
Prepare Theory on daily basis.

Make your own formulae book.

Practice solving a good number of questions on each topic (SM,

PM, RTP, Suggested answers, MTP, notes, Reference Book)

.

Try to solve each problem on your own.

Don't refer to solution from your notebook or any where else.

Use proper format for presentation.

Adequate Working Notes in supporting to your answers.

State the assumption clearly.

Avoid overwriting. Strike off and write again.

If there is a question for which you do know the answer but do not have the time to write it fully, write a synopsis for the answer.
SFM, the question paper is purely practical. Therefore, you have to practice solving a good number of questions on each topic.

Try to solve each problem on your own (by yourself), in spite of just auditing the solution from notebook or study material. So, do practice on regular basis. Don't refer to solution from your notebook or any where else.
Go through each and every topic thoroughly and understand conceptual points supporting each topic.

Try to solve as many questions as you can and also go through Practice Manual, Revision test papers, Suggested answers, Mock Test papers. (to the extent possible and available).

You should test your preparation by attempting some previous exam paper, revisions test papers, mock test papers under ultimate exam condition or environment. Later on check the result of your effort and make necessary correction/modification to your study preparations.

I personally recommend you to attempt Revision test papers, Suggested answers, Mock test papers at least one in a day. You will find variety of questions and you will never get disappointed in exam hall.

Always leave left hand page for showing workings, assumptions and notes. Workings are a must for the answer to be valid and should be fairly elaborate. Present them parallel to the question concerned. Use last page of the booklet for rough work.

You are advised to practice such numerical questions which cover the technical points, formulas and adjustments of entire chapters.

Before answering any question you need to make a rough solution in your mind and then go accordingly. No need to make hurry in papers like SFM as one mistake may spoil your entire efforts. In SFM you won't get amendments very frequently, so no need to worry about amendments etc.
Æ Believe me, if you would study in this way, would be able to secure good marks in the
subject.
Æ I sincerely believe that the suggestions mentioned above would be of some help in SFM
preparation.