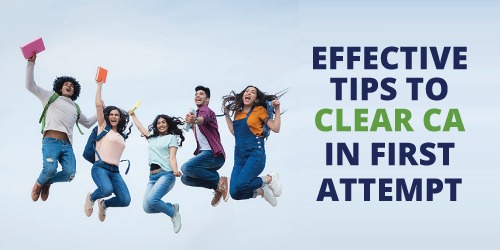 EFFECTIVE TIPS TO CLEAR IN FIRST ATTEMPT
By CA, CPA Vinod Kumar Agarwal
EXPAND YOUR SCOPE OF THE STUDY
This examination is like a sea.

Avoid Selective studying the topics selectively.

Study every single topic of the entire syllabus.
REVISE, REVISE AND REVISE
Review the old ones regularly.

Ensure that concepts are clear.

Revise entire syllabus at least twice / thrice before appearing for examinations .

Solve previous years question papers.
TAKE BREAK FROM SOCIAL MEDIA
Use internet only for their studies

Do not waste time over social media.

Switch off the notifications.

Hide Social media Apps
MINIMUM 14 HOURS OF EFFECTIVE STUDY PER DAY
Minimum of 14 hours of effective study a day.

14 hours of sincere efforts.

Helps to cover all the topic.

Time for revision and mock tests.
Follow a strict schedule while preparing for the CA exams.

Give equal weightage to all the topics / subjects.

Prepare your own time table.

Time table should include mock tests and practice of previous year papers.
Revise the theory subjects periodically.

Huge volume of topics demand repeated revision.
Not possible to cover the entire syllabus in a single day.

Own notes helps to revise easily and quickly at a later date.

Short notes of the important lessons in hand helps in prompt revision.
Work on enhancing the quality of your answers.

Presentation plays a key role.

Work on improving the handwriting.

Study regularly from Suggested Answers, RTP and MTP.
CA exam demands a lot of mental strength.

Do yoga , exercise and meditation.

Healthy food and good sleep.
You don't have to answer every question in order to clear the exam.

Focus your efforts on answering the question you know.

Do not devote too much time to a single question.

Start preparing for the next exam after taking a little rest.

Focus on the next exam. It's a new day, and a new chance.
The difference between ordinary and extraordinary is that little EXTRA."

The extra means extra passion to achieve, passion for recognition, passion for accomplishment.

Extra effort, extra focus, a dash of this extra in everything.

If you are ready to do that extra, getting a rank is definitely achievable.